Hope puts her plan into action to expose Thomas while he hesitates in giving his vows to Zoe.
Thomas' perfect vision of a family with Hope is about to come unravelled as she puts her, Liam, and Steffy's plan into action to expose his obsession with her. This is something fans are so excited to see and we're ready to see the whole thing unfold.
Despite Steffy, Brooke, and Hope's warnings, Zoe makes her grand entrance down the aisle without any of her family present. They have no idea she's about to marry one Thomas Forrester. Her mother lives in the UK and her father is in prison for the role he played in Baby Beth's kidnapping and illegal adoption. God only knows what her ex, Xander would be thinking if he knew.
Anyway, the ceremony gets as crazy when Douglas throws a tantrum, begging Hope to stop the wedding. He then runs upstairs in tears. His mother follows him which causes unrest. Zoe tells Thomas they need to keep going. This causes surprise amongst the guests. Does she know something we don't? Are the Forresters wondering why she suddenly doesn't want her beau to go after his distressed son?
Bill Rants To Wyatt While Daydreaming About Brooke
At Spencer Publications, Wyatt walks in on his father daydreaming about the kiss he shared with Brooke. They then talk about how Thomas has everyone except Hope, Steffy, Liam, and Brooke fooled. Bill rants that Zoe is just as bad as her fiancée given the role she played in keeping his granddaughter from her parents.
Little do they realise that Hope, Liam, and Steffy have put a plan into action to expose Thomas and his lies and his constant obsession with Brooke's daughter.
Carter Is Visibly Uncomfortable
Carter is a longtime Forrester friend, their lawyer, and official wedding officiant. However, he knows as well as Brooke, Liam, Hope, and Steffy do that Thomas doesn't really want to marry Zoe. You can tell by the way he's standing that even he doesn't want to be there. We know he has feelings for Zoe and he's basically mentioned as such that she's beautiful.
We see him talking to Vinny, and Quinn with Eric's wife joking about something we missed. Anyway, during the 'ceremony' he mentions how Thomas and Zoe will come together to be parents to Douglas. We can just see him cringing as he says all this.
Does Zoe Have Her Own Plan Set In Motion?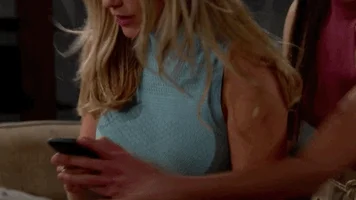 Zoe is clearly madly in love with Thomas, but does she have her own plan in place? Did she want to continue with the wedding because she wants to believe Crooked Tom loves her or did what Brooke and Steffy tell her actually resonate with her? We'll find out in tomorrow's episode, but whatever happens we will be there to see the fireworks.
Ridge
Ridge just doesn't want to admit that his son is sick in the head. As Bill rightly told Wyatt, the dress maker is always coddling Thomas and doesn't want to believe that Tom is doing is wrong. He also brings up that the designer didn't even stand up for Steffy when the truth came out about Phoebe being Beth.
Before you all jump down our throats, the only time Ridge actually comforted his daughter onscreen was when Hope and Liam took Beth home to the cabin. We got mentions of Steffy interacting with her family offscreen but that was it. All he cares about is Thomas. Not his grandchildren. Not his own grieving daughter. Just his evil and cunning son.
Thomas' Reckoning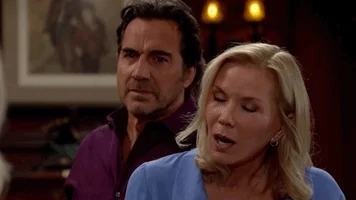 We've already written about the reckoning that is coming. While it's unknown how everyone will react to what's coming, we think Tom's reaction is going to be best of them all. He'll probably fake his innocence and say Hope's making it up so she can marry him and frankly, we wouldn't put it past him. He's all about making himself look good.
Also, he has no consideration as to how the whole thing will affect Zoe. How will she feel when it comes out he wants Hope and not her? Not to mention, he's freaking Douglas out so much that the little guy is distressed and upset that Zoe is going to replace Hope as his mother. While we know that, Douglas doesn't see it the same way as his deadbeat father does.
Thomas forgets that his son is five or six years of age. He doesn't understand things as well as adults do. If Caroline were alive she would be livid to learn he was using their son to get Hope.
Thomas Tries To Stall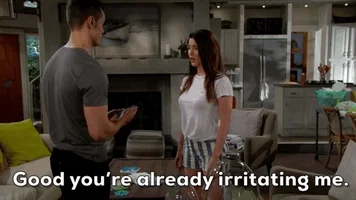 After Douglas throws his tantrum and runs upstairs, Thomas does his best to stall the wedding for as long as he can. Zoe wants to continue with or without the boy. As we mentioned before, the model might have her own plan. On the other hand, Thomas is forced to make up his vows on the spot though we doubt anybody would've noticed.
With their plan into action, Steffy and Liam only had to wait for the signal to act shocked when Hope came down the stairs in the 'showstopper' dress. While it's unclear whether Steffy knew the full extent of Hope's plan, we know Liam knows about as he questions her about it.
He uses Caroline's death as the reason why Douglas is struggling to accept Zoe as his new 'mother'.