Are you a writer? Do you love pop culture? Well, I have excellent news for you! Creator and Movie Pilot is looking for writers and one of those might just be YOU!
If you love movies, television shows, music and gaming, Creator is the place to be writing.
Before diving into the question 'Will I obtain pay?', let's talk Movie Pilot and Creator.
What Is Movie Pilot And Creator?
Let's start with Creator.
Creator is the central hub for articles that are published on Movie Pilot. Create an account and start writing. It's that simple. When you feel your writing is up to where you desire it, do through the Creator Academy. This makes it easier to become verified when you complete the course.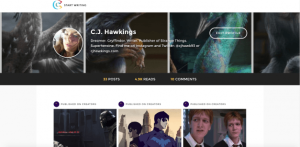 If there is one thing I have learned, it is you need to edit your work before you send it to become verified. The more you understand the topic, a greater extent of people will read your article. That includes becoming a verified writer.
Now, on to Movie Pilot.
Movie Pilot is a pop culture website that dabbles in everything from TV series to film and comic books. The website is a 'sister' website to Creator, which acts as the home for all the articles people write. If an article is deemed outstanding enough, the admin team at Movie Pilot will 'promote' your article.
Are There Other Sister Sites? What Other Content Can I Post On Creator?
Yes, there are other sister websites to Creator and Movie Pilot.
Creator also acts as the hub for Now Loading which is the Movie Pilot equivalent for gaming. The second sister site is Champions which deals with Combat Sports. See? Creator does cater for everything. Can't argue with that, right?
If you have other passions such as dance or yoga, don't panic. You can still post your articles up on Creator.
Created to cater for every subject under the sun, Creator can be treated similar to a blog.
Benefits
There are a load of benefit that come from being a member of the Creator community.
Earlier, I referenced becoming verified. When you become verified, you get paid an amount every time your articles hit a thousand reads. For example, my reads count is currently 4.8k. In American dollars, I would be earning $6.80. However, the amount would be $8.52 in Australian dollars. This is just a rough estimate.

Roughly, the amount per 1000 reads is $1.7 American. It might not be much money, though it adds up, over time. Also, the amount that writers get paid changes over time.
One of my favourite commodities regarding the Creator community is that the community is supportive. What's magnificent is that it doesn't matter if you're starting out. I have been with Creator, for almost two months and I'm loving it.
What is tremendous is that you don't need to write in connection to one topic. You can write regarding anything you please. Moreover, one user on Creator described the website as YouTube for writers. Conversely, YouTube allows videos revolving around anything. Creator is no different.
Conclusion
In conclusion, Creator and Movie Pilot are both user friendly. Creator will cater to whatever your passion might be. Movie Pilot will cater to your pop culture needs.